A Family Journey | New High Jewellery Collection | Boodles
Discover the family journey and follow Nicholas Wainwright's trip around Europe and the stunning diamond and gemstone jewellery pieces created.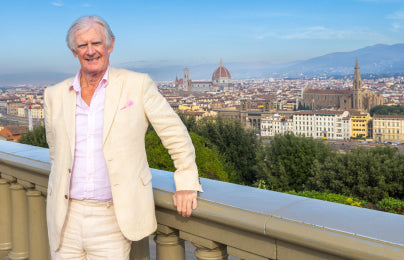 The Journey of a lifetime
At my age, I do what I'm told. So when my family co-directors of Boodles said they'd like me to do a Grand Tour of Europe, who was I to argue? And unlike those poets of the nineteenth century, who might take a rickety boat across The Channel to seek out Michelangelo's David, I would be doing it in style. "Any fool can be uncomfortable," as dear Dad used to say. His advice was to travel five-star – and I've tried hard to follow his example.

There's a serious purpose, of course. In 1962, my father made a round-the-world trip. Not all that common back then – and especially not in just 16 days, which is how long it took him. (He and my mother couldn't bear to be apart.) It wasn't some corporate jolly. Anthony Wainwright ran a tight ship, and wanted to meet people who could provide Boodles with the very best diamonds and gemstones. Not the sort of people he'd meet in his everyday life. And the friendships Dad made still come up trumps all these years later, although today we're dealing with the children (and sometimes grandchildren) of the people he visited.

Anyway, to commemorate 60 years since his adventure, I would travel to Europe's most beautiful cities, seeking inspiration for a new high jewellery collection. That's what this story is all about.

Nicholas Wainwright
A collection inspired by a European Grand Tour
We'll always be a forward-looking business. But once in a while, it's nice to look back. This collection celebrates a milestone in our history: a family journey that opened up a new world. In 1962, Anthony Wainwright went on a remarkable adventure — meeting dealers in fine diamonds and gemstones, on a tour lasting just 16 days. The friendships he made transformed Boodles. It enabled us to offer jewels of a quality hard to find anywhere else. Six decades on, our Chairman, Nicholas Wainwright has honoured his father's initiative with a journey of his own. Ten European cities, in ten days. They've inspired what you'll find in this collection — which we believe would have made him very proud.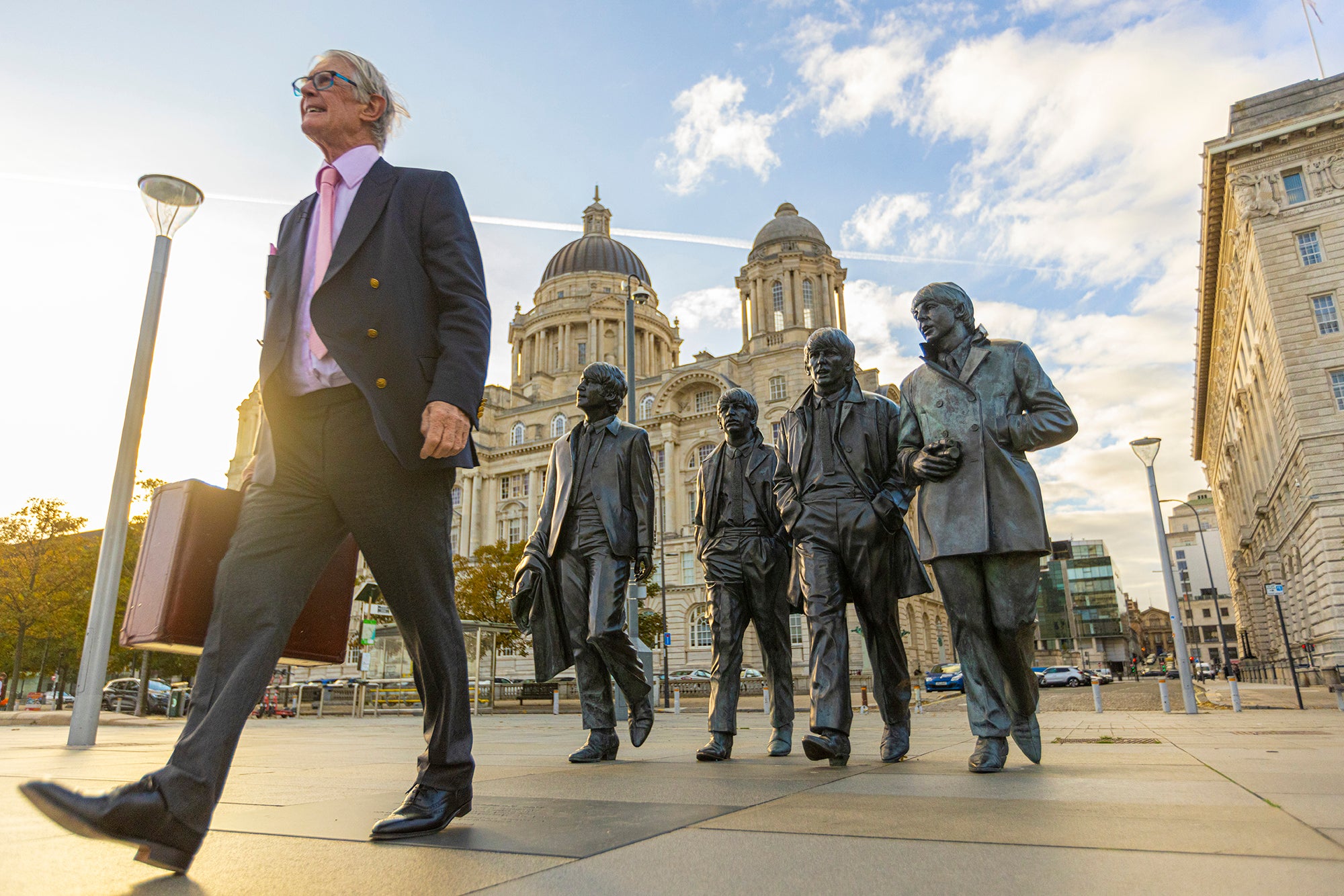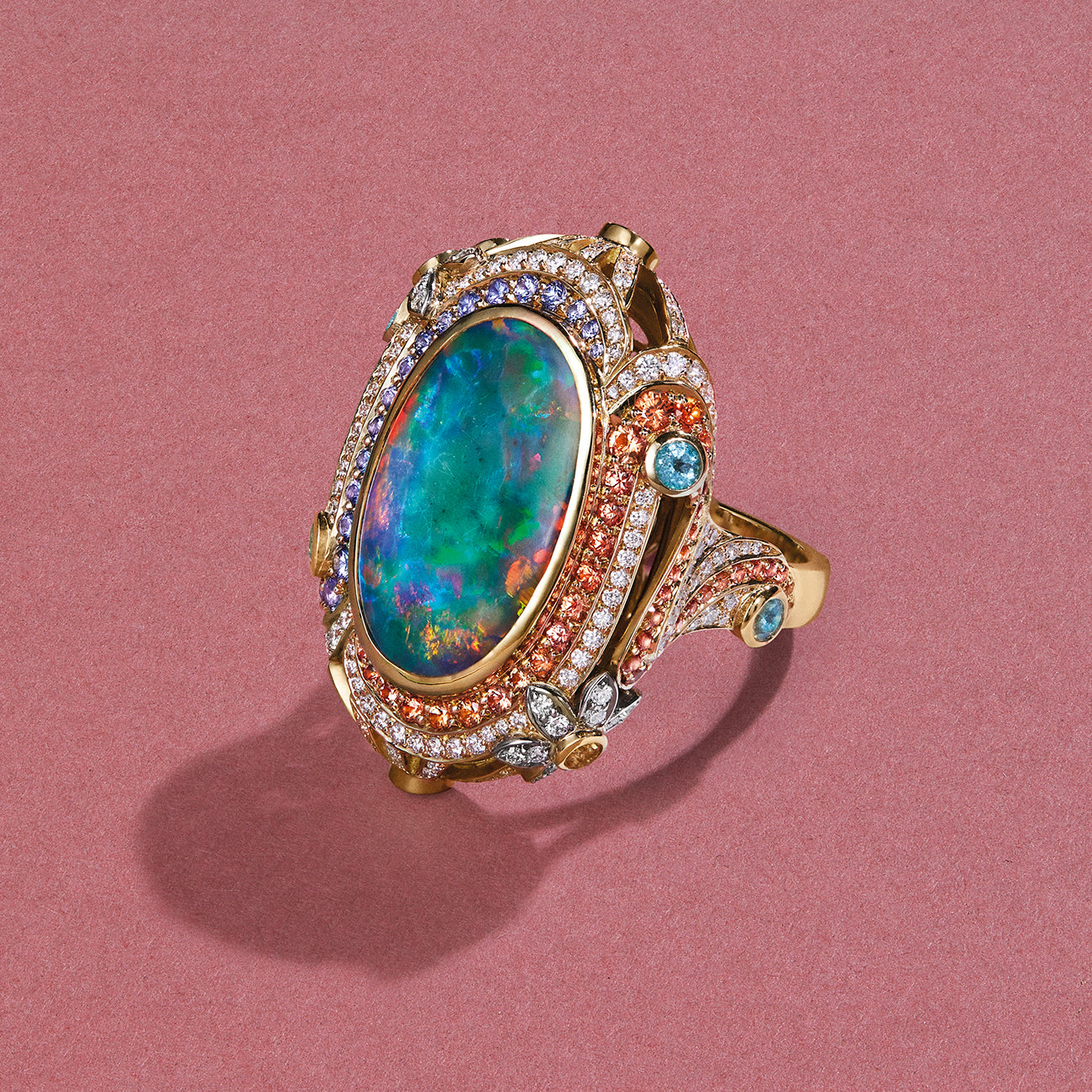 Destination 1
Liverpool
Lucy in the sky with — yellow diamonds? Yes — as well as orange and purple sapphires and Paraíba tourmalines, all surrounding stunning oval cut black opals. It's a trip back to 1967 — with sunray motifs, flower power petals, and psychedelic nods towards a long (and winding) road.
Discover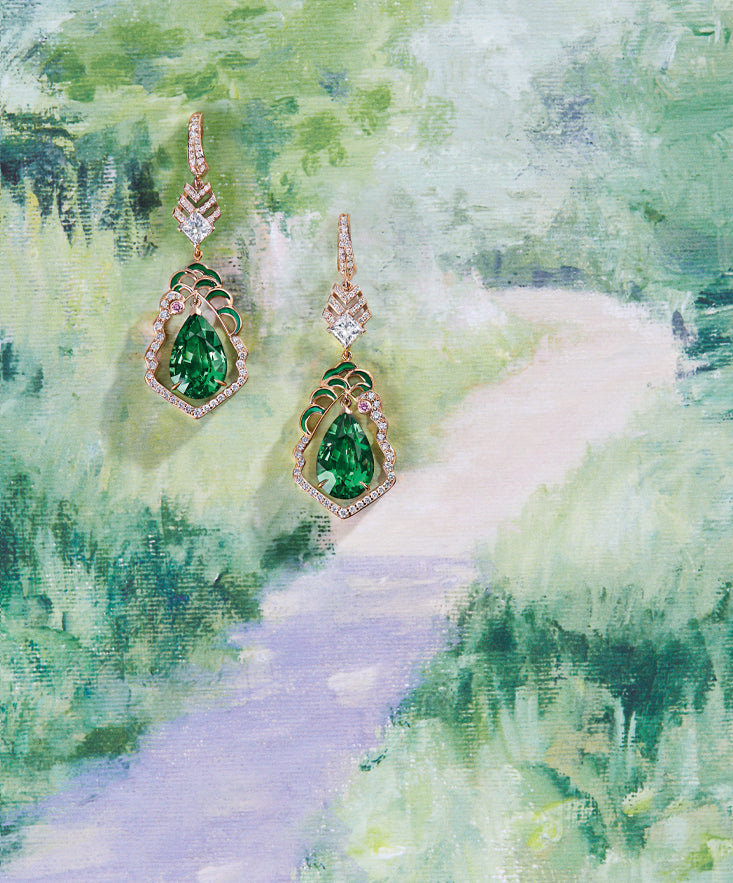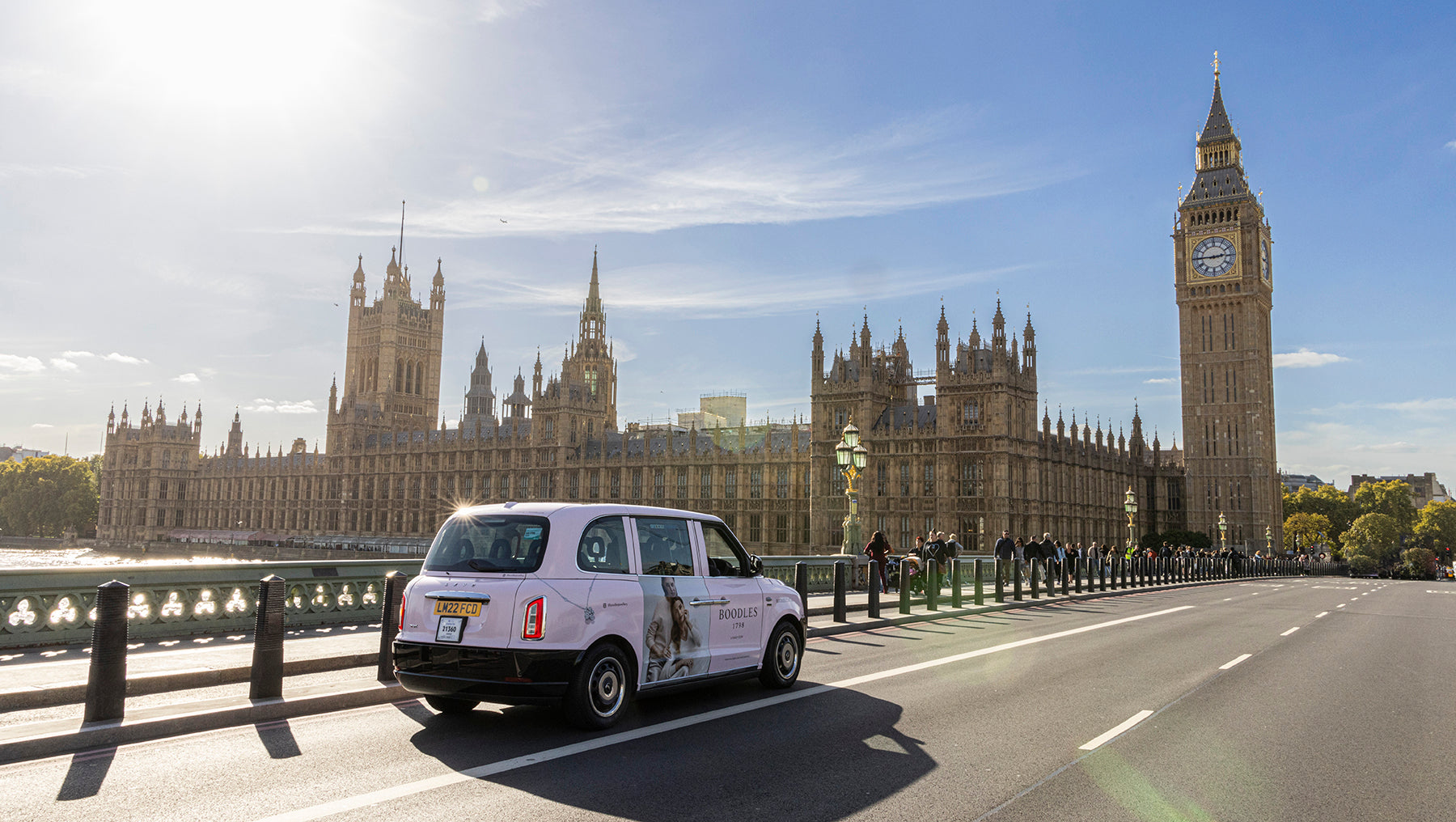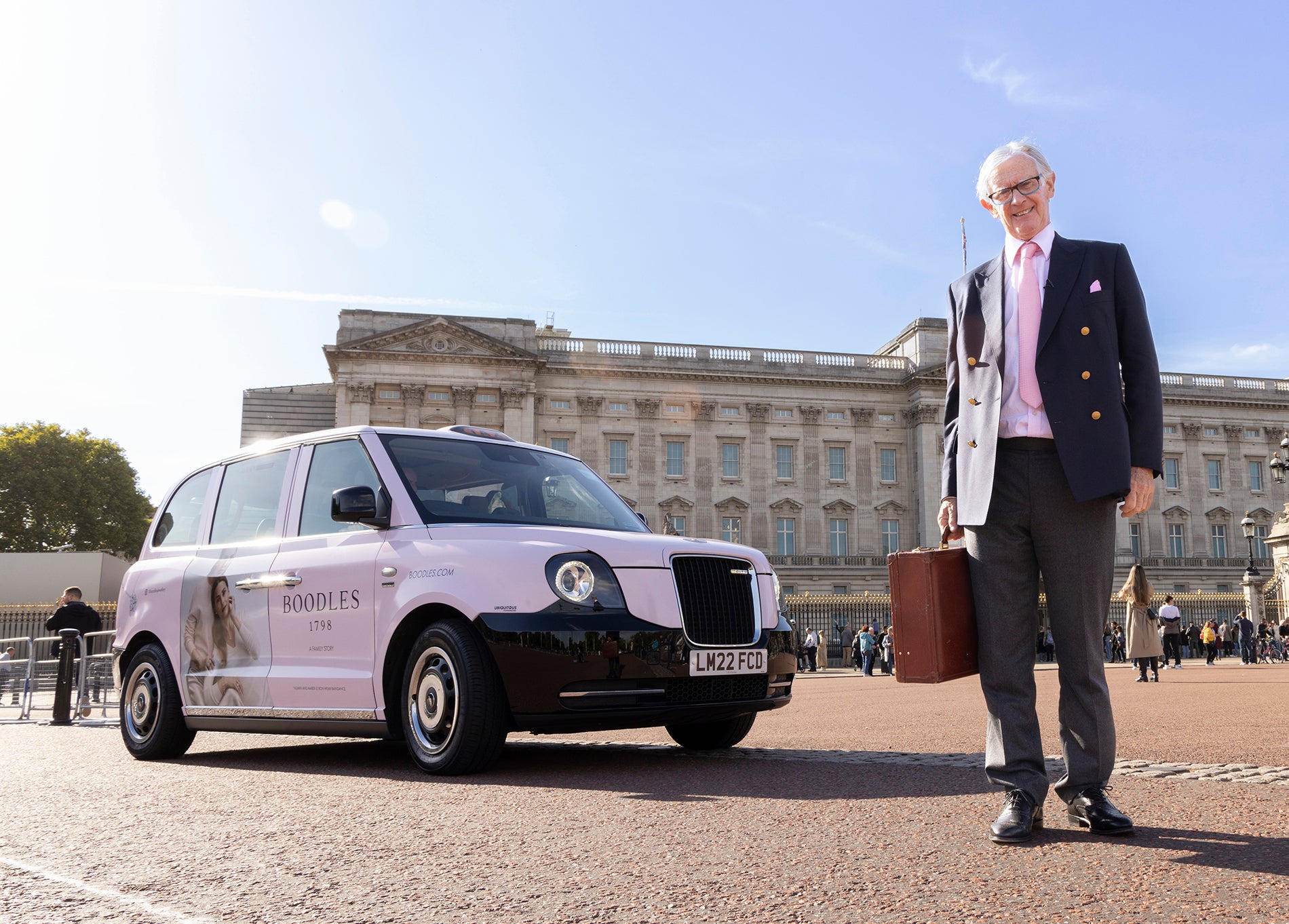 Destination 2
London, Royal Parks
Gain a bird's-eye view over London, admiring the rich greens of the city's Royal Parks. The Platinum Jubilee Pageant surrounded St James's - a near triangle, with Birdcage Walk at its base and The Mall its majestic hypotenuse. In these earrings, we've replaced grass with glorious pear-shaped tsavorites totalling over 13 carats. And pink diamonds - reached down twin paths of pink gold.
Discover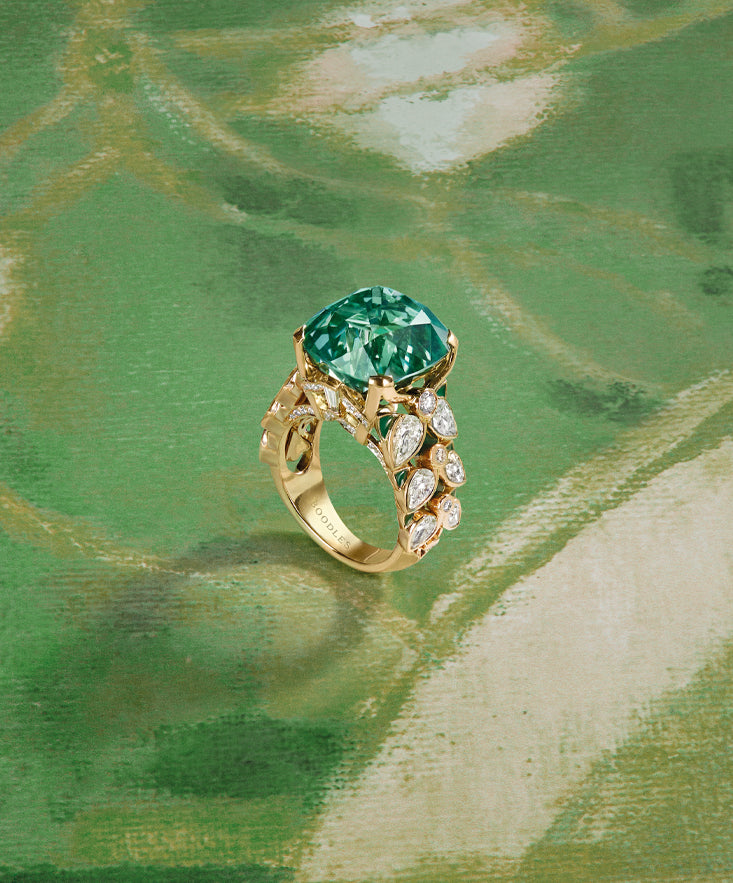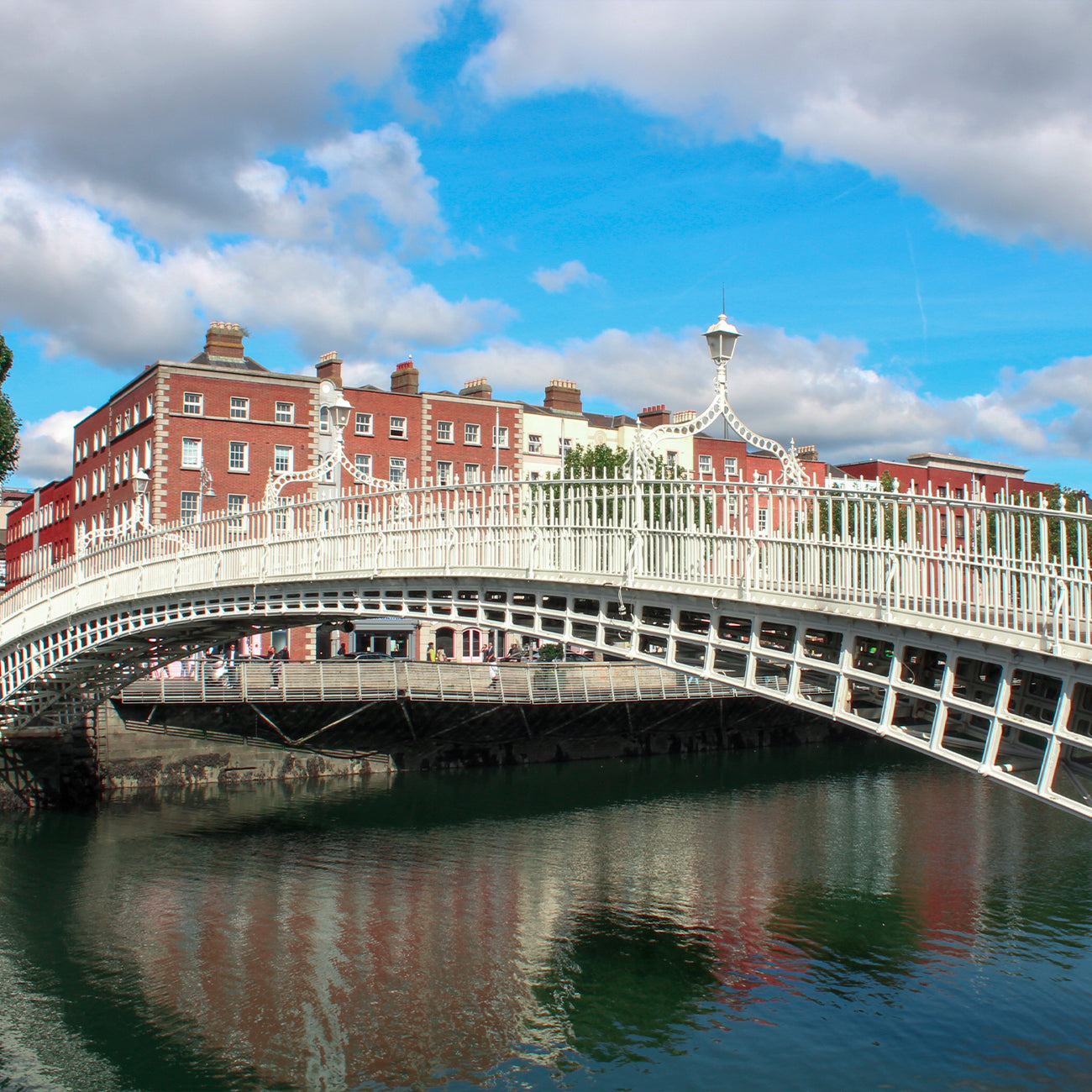 Destination 3
Dublin
They say the leaves of a shamrock represent faith, hope and love. The overarching lights on the Ha' Penny bridge inspire the shape of the collets holding a stunning 16 carat shamrock-green cushion-shaped tourmaline. 'Breathtaking' barely does it justice. With half a dozen pear-shaped diamonds on each side — and ditto to four brilliant cut diamonds — the band is inspired by the ancient Book of Kells.
Discover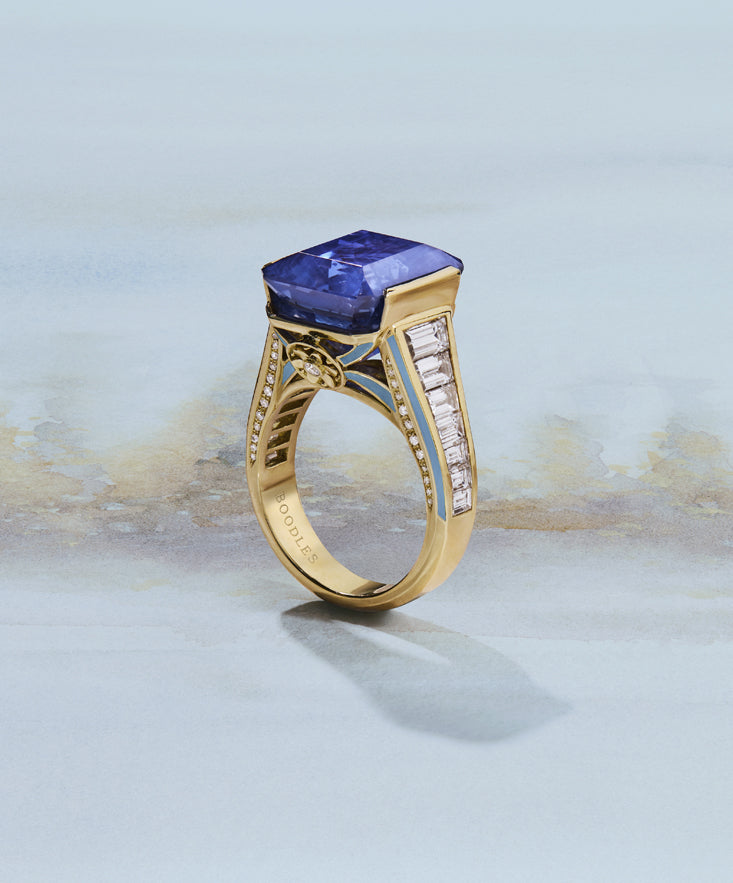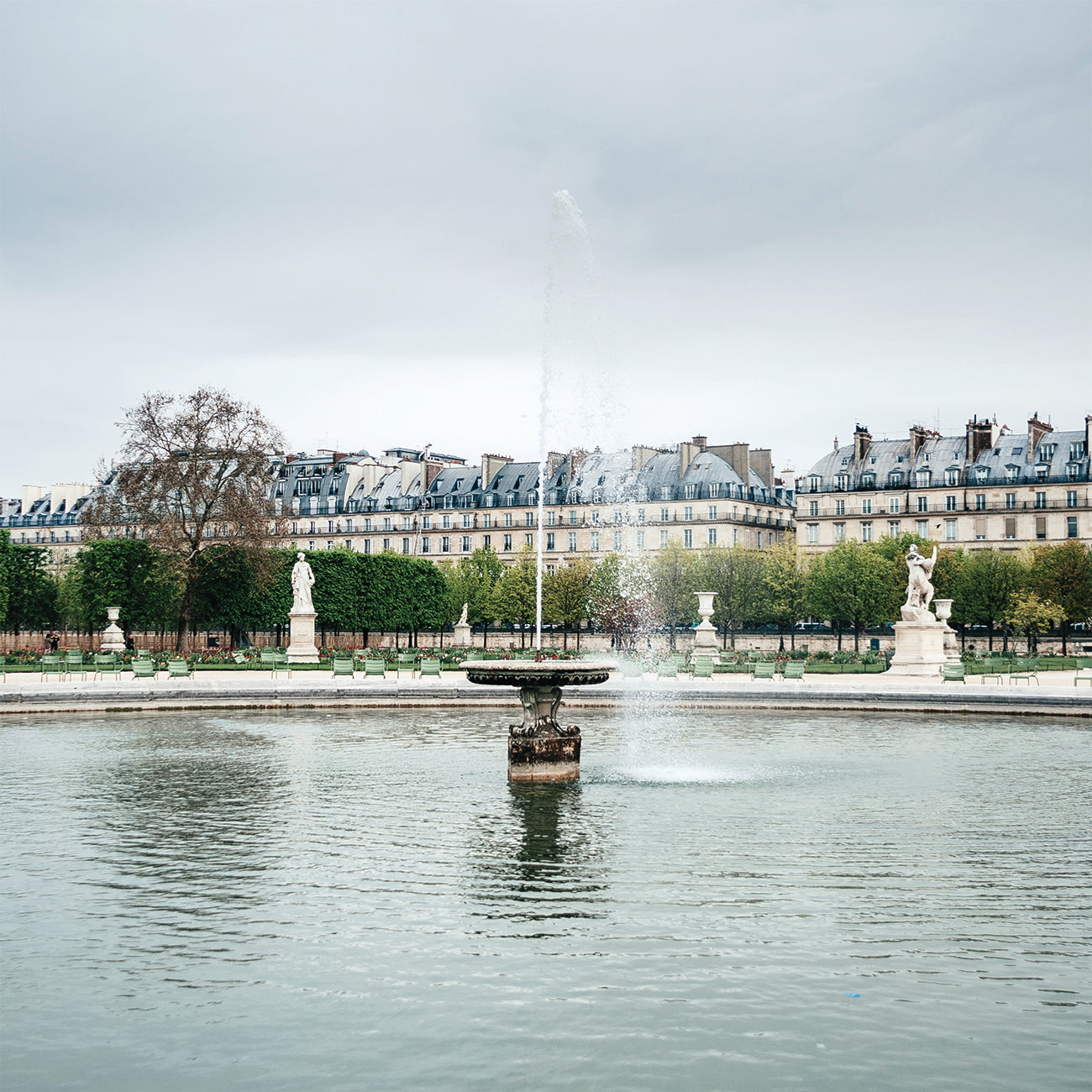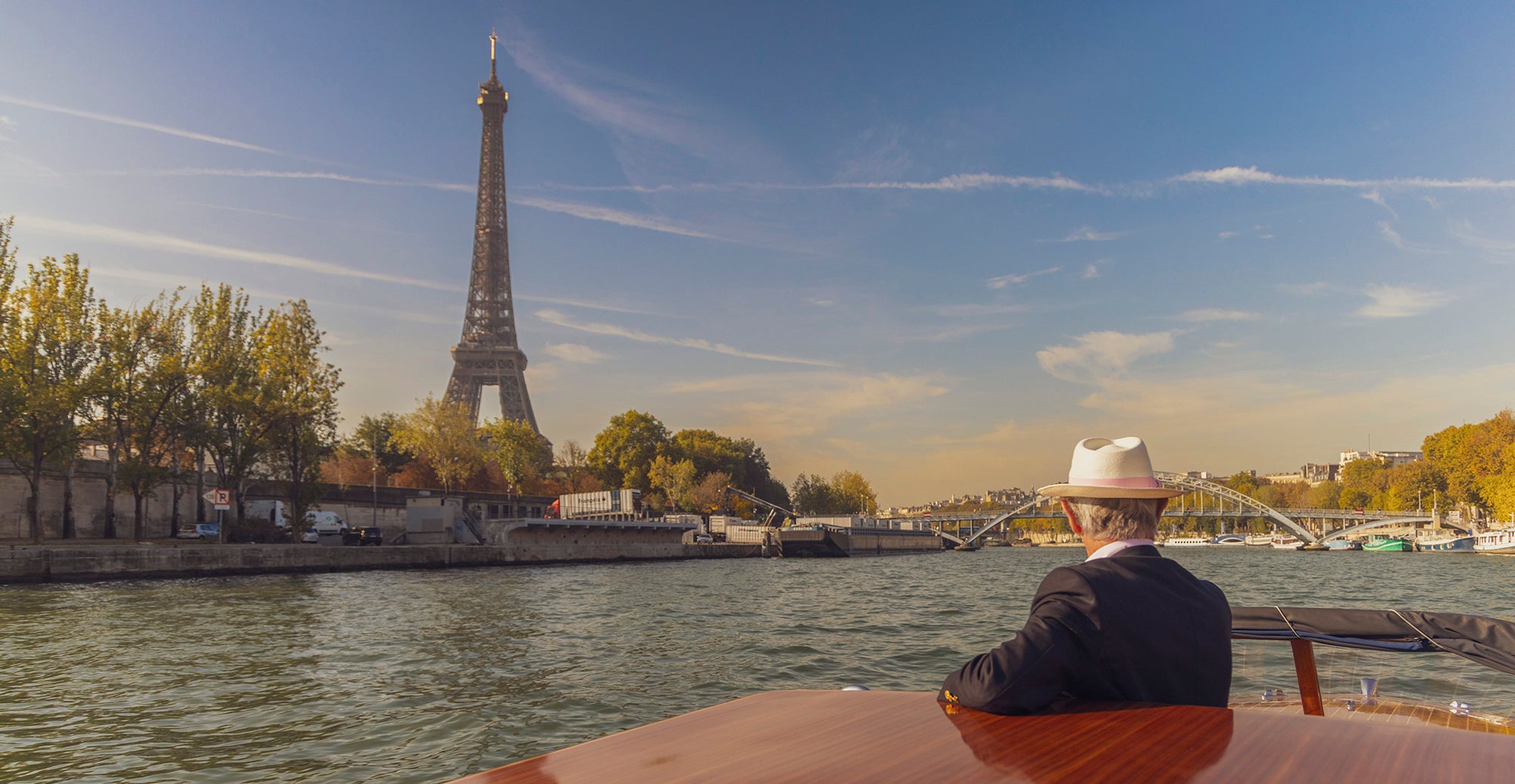 Destination 4
Paris, Tuileries
France's Tricolore flag was introduced the day after St Valentine's, on 15 February 1794. A smidge older than Boodles, its blue stands for freedom and liberty — expressed in this exquisite 15 carat emerald cut Ceylon sapphire.
Discover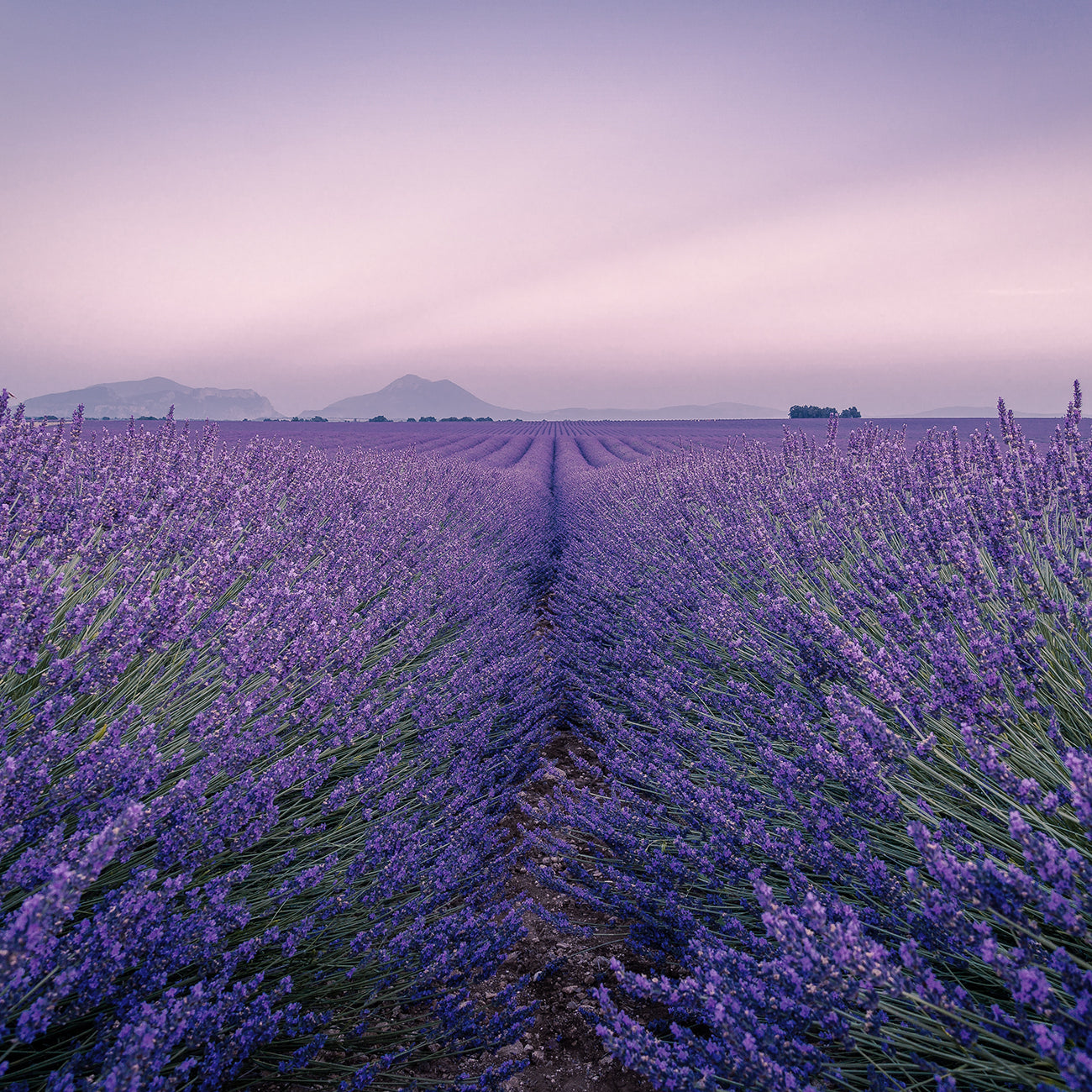 Destination 5
Provence
Valensole, Haut-Alpes and Luberon — all famed for their lavender fields. You can almost taste its scent from this 3 carat tanzanite, a trio of purple sapphires and white diamonds swaying beside it. To complete the suite, a bracelet and earrings, with undulating lavender jade.
Discover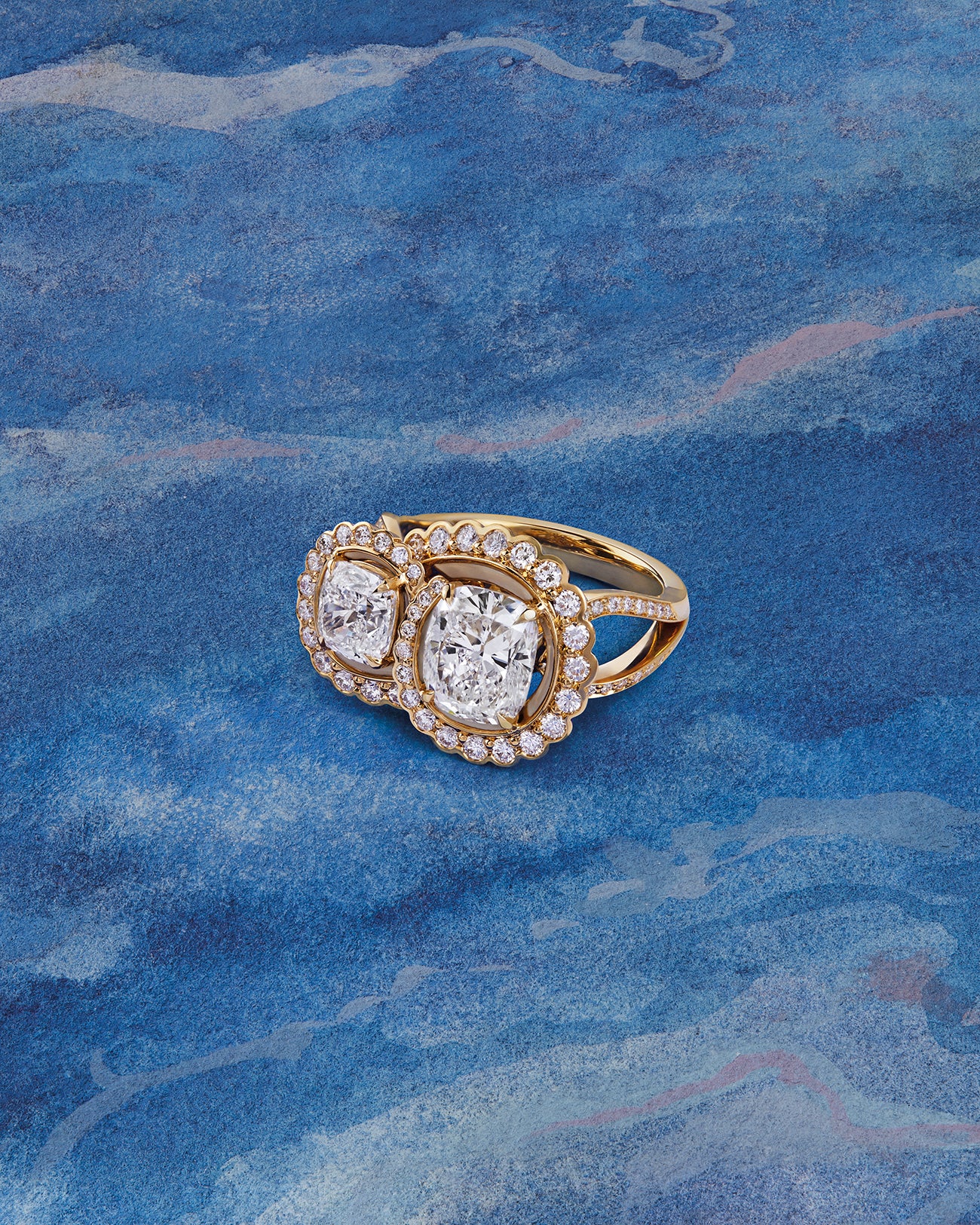 Destination 6
Monaco
Speed around the racetracks of Monaco with this beautiful Gemini ring. Cushion-shaped diamonds each vie for victory: at 2.35 and 1.26 carats respectively. Lining the route, white round brilliant cut diamonds. The total effect is breathtaking. Try it on and feel your pulse race.
Discover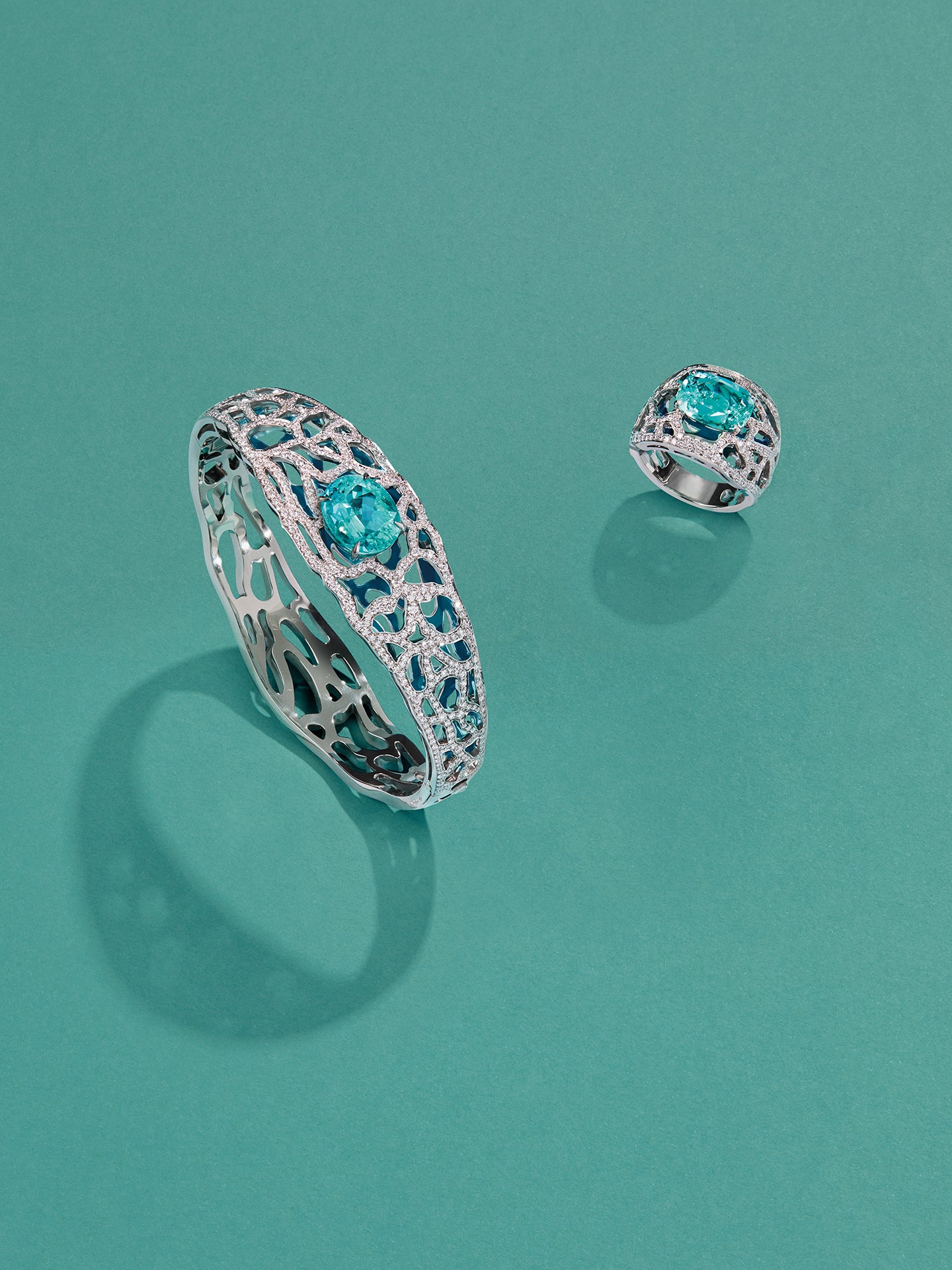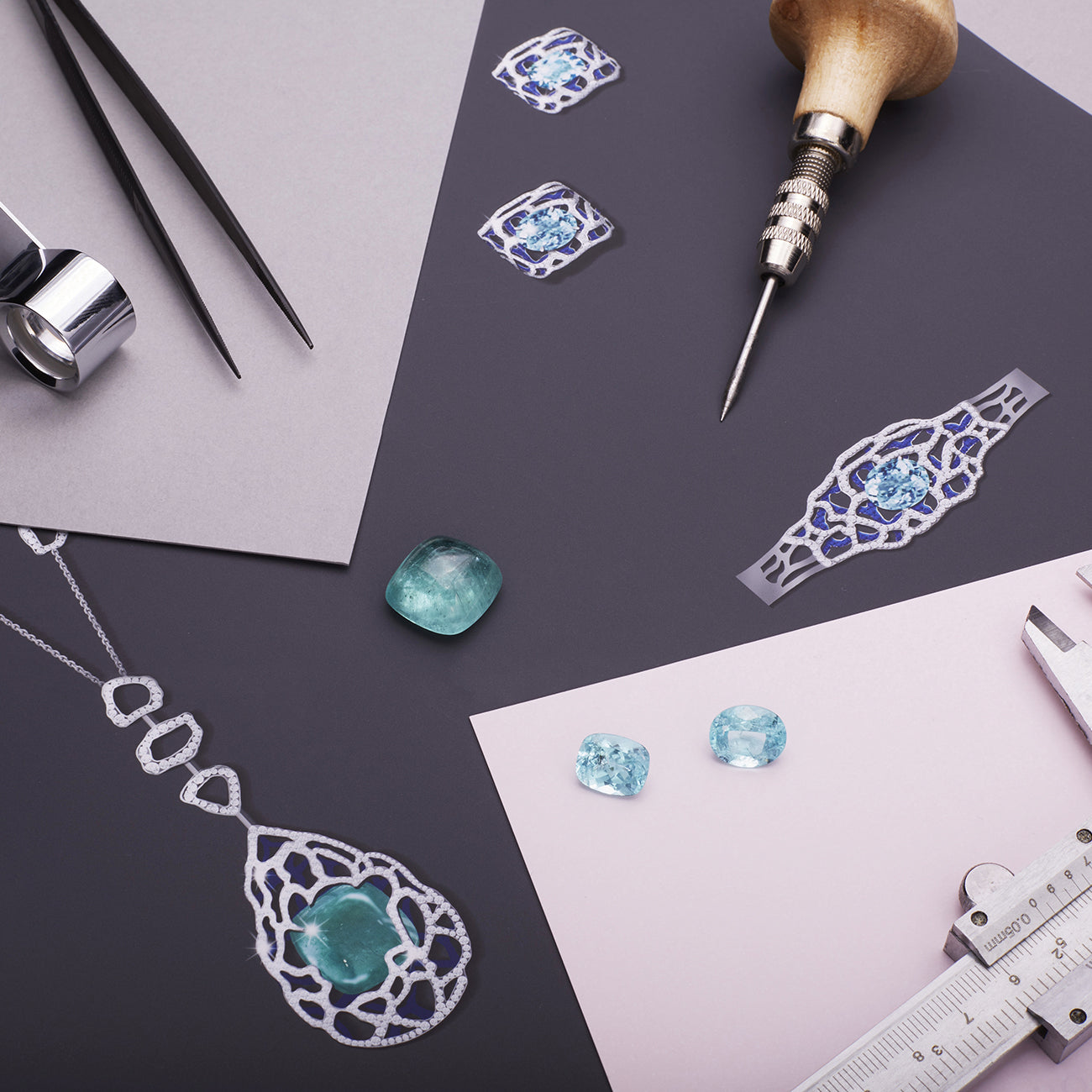 Destination 7
St Tropez
St Tropez has a particular light — it's to do with the way it's reflected by the Massif des Maures mountains, and the purity of the sea air. With this suite, we're inspired by the way the rays shimmer on water, and their ever-changing submarine patterns. In the ring, a cushion-shaped Paraíba tourmaline of 4.48 carats is kissed by a lattice of diamonds. Beneath, an underlayer of blue-green enamel. The bangle features a 5.42 carat Paraíba and the necklace an impressive cushion-shaped cabochon cut stone of over 25 carats.
Discover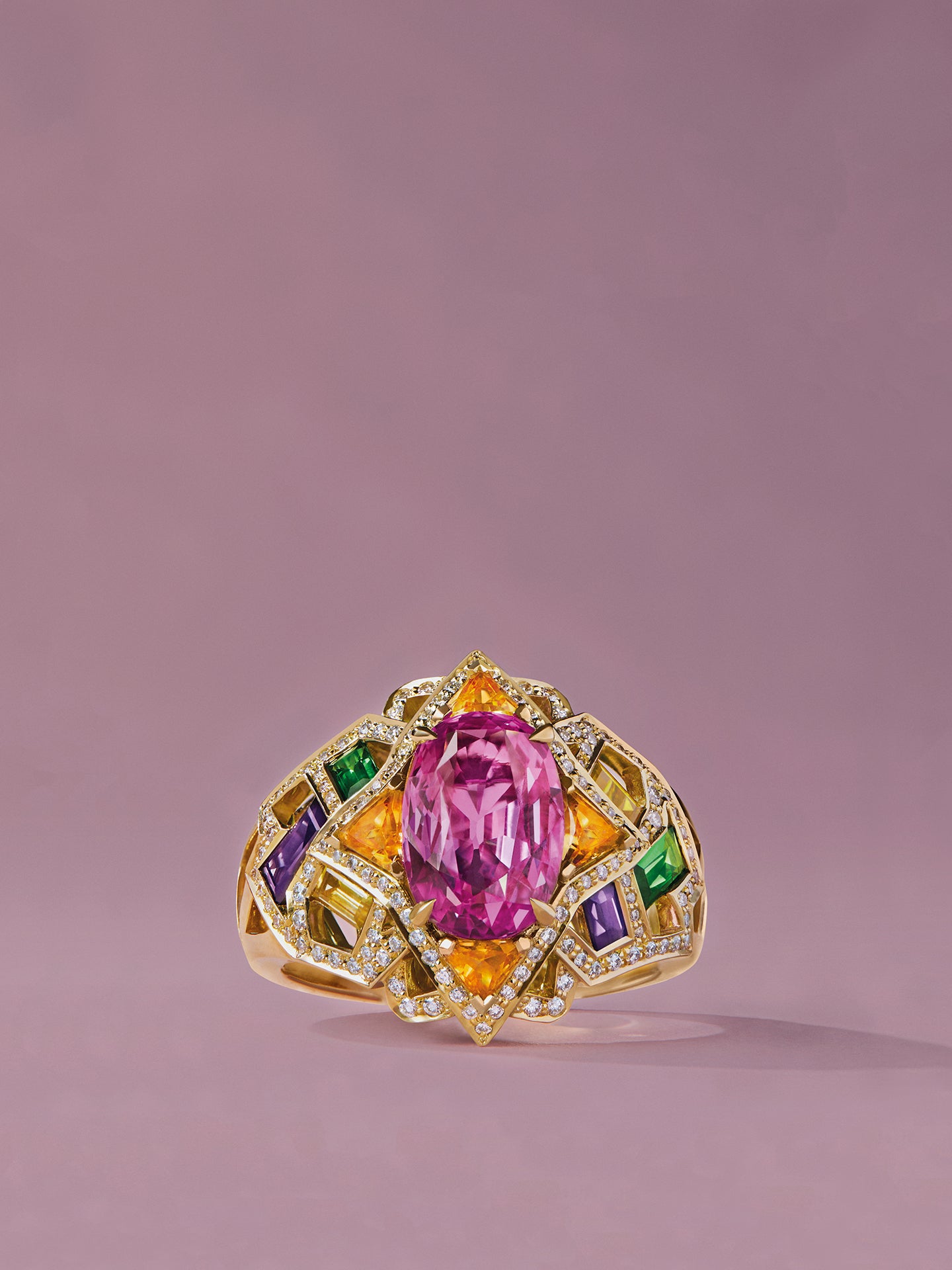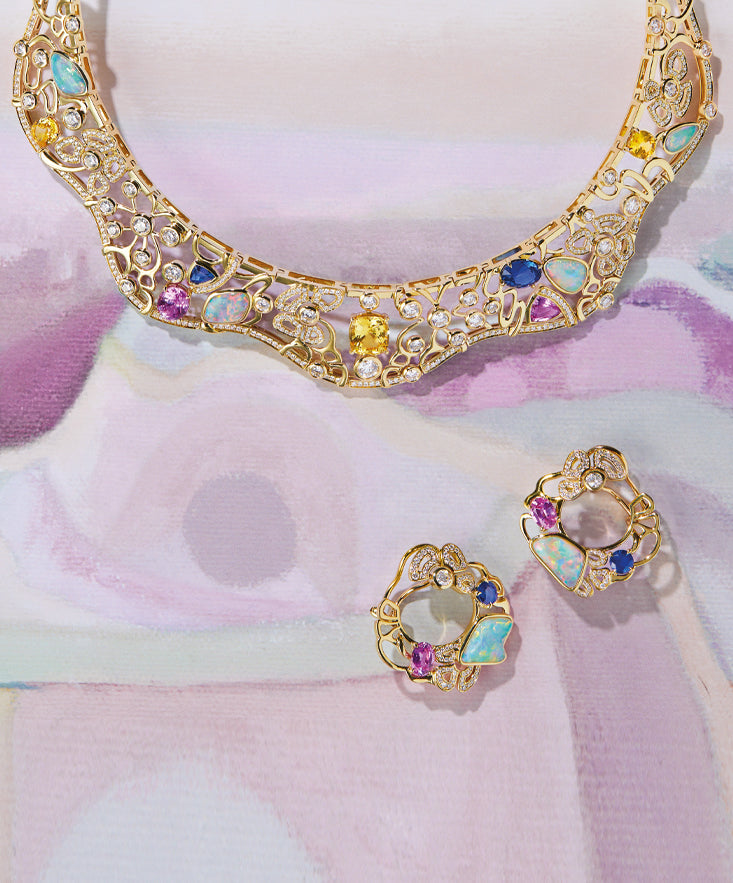 Destination 8
Barcelona
Visit Barcelona's Park Güell and look out for Gaudí's salamander, made of pink, yellow and green tiles. We've channelled his riot of colour, crafting a suite featuring a necklace, earrings and a ring — with a 3.32 carat pink sapphire at its heart. Bold, vivid flashes conjure the city's vibrant buzz.
Discover