A Family Journey: Around Europe in 10 Days
In early 1962 Anthony Wainwright, the Chairman of Boodles at the time, set out to travel around the world in 16 days, buying diamonds, pearls and precious gemstones — as well as to expand his own horizons and network. Sixty years later, Anthony's son, Nicholas, embarked on a similar journey – Around Europe in 10 days.
Watch the film below: A Family Journey: Around Europe in 10 days:
.
Nicholas Wainwright writes...
At my age, I do what I'm told. So when my family co-directors of Boodles said they'd like me to do a Grand Tour of Europe, who was I to argue? And unlike those poets of the nineteenth century, who might take a rickety boat across The Channel to seek out Michelangelo's David, I would be doing it in style. "Any fool can be uncomfortable," as dear Dad used to say. His advice was to travel five-star – and I've tried hard to follow his example.

There's a serious purpose, of course. In 1962, my father made a round-the-world trip. Not all that common back then – and especially not in just 16 days, which is how long it took him. (He and my mother couldn't bear to be apart.) It wasn't some corporate jolly. Anthony Wainwright ran a tight ship, and wanted to meet people who could provide Boodles with the very best diamonds and gemstones. Not the sort of people he'd meet in his everyday life. And the friendships Dad made still come up trumps all these years later, although today we're dealing with the children (and sometimes grandchildren) of the people he visited.
Anyway, to commemorate 60 years since his adventure, I would travel to Europe's most beautiful cities, seeking inspiration for a new high jewellery collection. That's what this story is all about.
Anthony Wainwright's 'Around the world in 16 days' photo album, 1962
Anthony and Nicholas Wainwright, Liverpool, 1978
I set off from Liverpool just as Dad would have done, by car then by train up to London. Here, he headed west for London Airport – what we call Heathrow today of course. But his destination then was Ceylon, whereas I would be heading for Paris by Eurostar. I'd stop in first at New Bond Street, for a bon voyage with the team and to reconvene with our very talented photographer and film director, Archie.

Whizzing through London in a Boodles pink taxi, I had a sense of how far the family business has come. In 1798, our company was a regional jewellers and silversmiths. Over 200 years later, here we are, having survived a couple of centuries' historic events. It's wonderful to think about our journey here and see that business is also good: "120-1 at lunch," you might say in cricketing terms.

So we jumped on the train and zipped off to France. How civilised. Out with the briefcase, a spot of the Telegraph crossword and a handwritten notecard or two. Before you know it, bonjour Gare du Nord.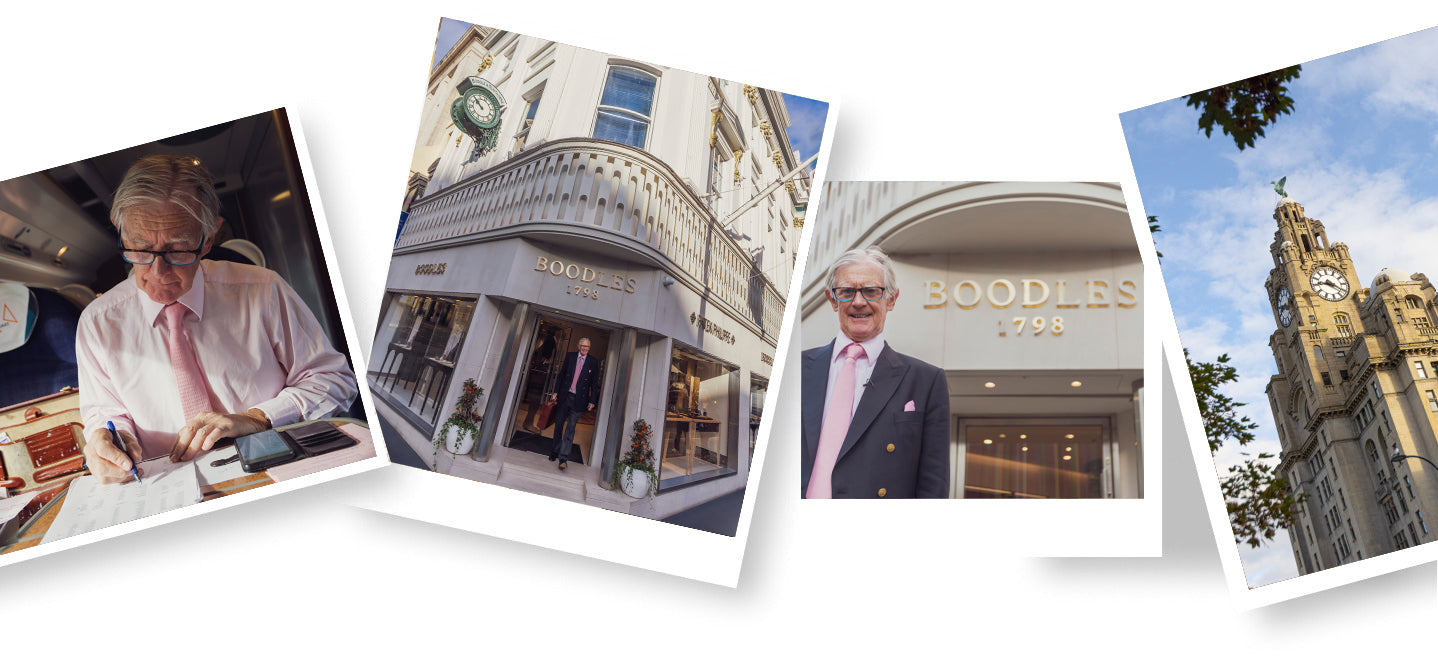 Paris is a world centre for jewellery, and it's always lovely to look around the Place Vendôme for a little inspiration. Not that we'd ever copy anyone, it's more the ambience we might be inspired by. Beyond jewellery though, sports are my thing.
Golf and cricket especially, but I also happen to be a dab hand at games played on the beach with my grandchildren. So when we spotted a game of pétanque at the Jardin des Tuileries,
I couldn't resist. The chap I played against, Arnaud, was very good – highly seeded in France, apparently. But somehow I just managed to pip him. (These long arms, I suppose.) Either that or he admired my pink shorts. Anyway, the whole thing was hilarious, with Wainwright closing play 13-12.
"Paris is a world centre for jewellery, and it's always lovely to look around the Place Vendôme for a little inspiration."
Nicholas Wainwright
Paris ticked off the list, our next stop was Antwerp. The diamond capital of Europe, and a place I visit often. Here we caught up with my son, Jody, and Kirstie, his wife. Jody is our Director of Precious Gemstones, and always on the hunt for the kind of magnificent, candyfloss-pink diamonds we love at Boodles. We had a fabulous meal at my number one restaurant in the world, Sir Anthony Van Dijck. If you haven't been, add it to your list. They no longer bring me a menu: the manager knows I'll have a dry martini, dressed crab and Dover sole. We made time for business, of course. My good friend Chris Bull joined us, with Jane, his wife. Chris heads up a family-owned diamond company in Antwerp. They place sustainability at the heart of their approach, which means all their diamonds are ethically sourced. It's always a joy doing business with him – as well as lovely to meet up with a fellow Englishman in Antwerp.
Jardin Des Tuileries, Paris
Nicholas at Grote Markt, Antwerp
Another friend it's terrific to see is Thierry Stern, the President of Patek Philippe. They're a family-owned business too, based in Geneva, just on the shore of Lac Léman. Thierry was very interested in my journey and was fascinated to see Dad's album full of memories from 1962. Then Thierry showed me something special: a Patek Philippe watch, made that same year. Beautiful. And still marking time just as accurately as the day it was made, six decades on.
Thierry had invited some of our very best customers together for a gastronomic treat. Great speeches, good laughs. Thank you, Thierry. Patek Philippe really is one of the finest family-owned companies in the world.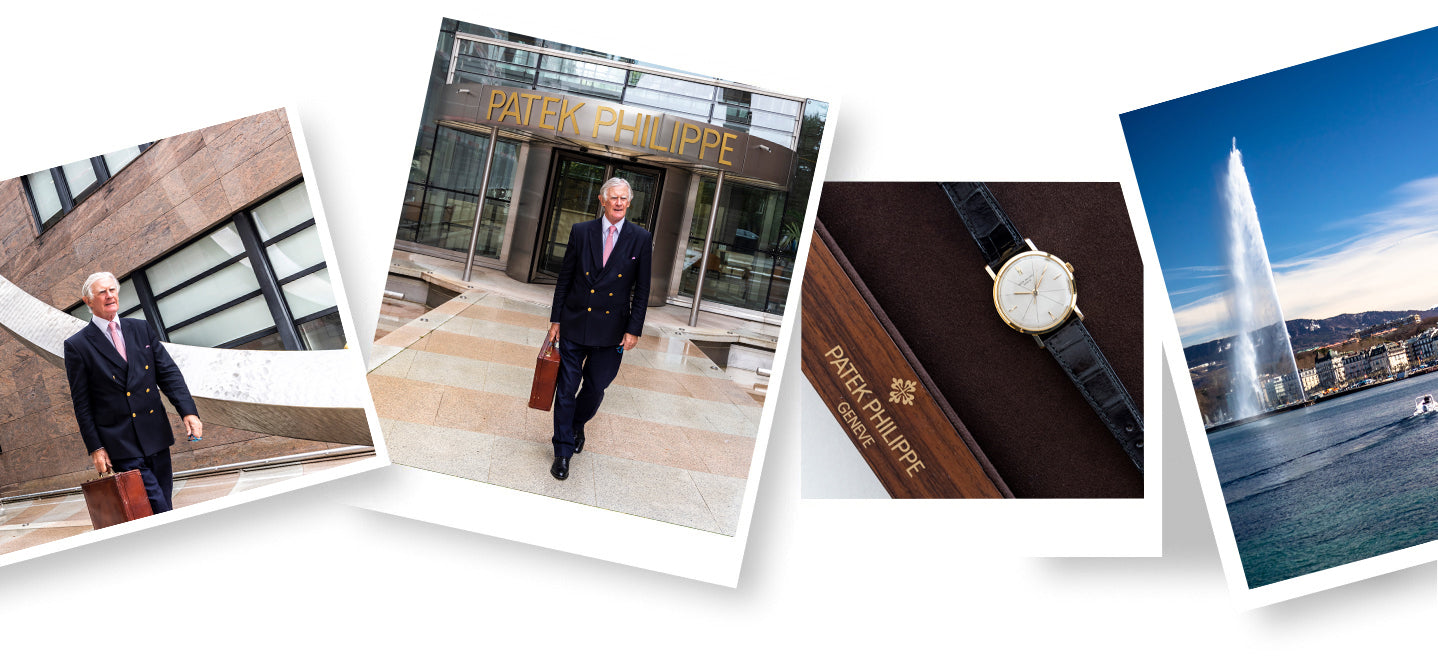 A bright start the following morning, and a turboprop plane off to Vienna. Such a stylish city. Our Head of Design, Rebecca, joined me there. She was keen to see the Gustav Klimt exhibition and take a look around the city for more inspiration. Rebecca is a fabulous talent and has been at Boodles for 32 years. Spending time with Rebecca as she worked reminded me how special she is. Her design team have really captured the spirit of each city in the pieces you'll see here.
The Vienna suite, for instance, carries beautiful golden swirls from Klimt's "Tree of Life" all the way through into the bracelet, earrings, pendant and ring.
The exhibition itself was superb – although Rebecca did reprimand me at one point for tapping one of the pieces with my Boodles pink umbrella. (Honestly, I was enraptured – and so keen to point something out that I simply forgot myself.) Anyway, I know Rebecca was enamoured by all of it. A Wiener schnitzel lunch in the old town, then an afternoon flight off to Venice.
Venice, dear Venice. What can I say? I've honeymooned there – so romantic. Arriving by night is a thrill: to be met by motor launch, and whisked off to our hotel on the Grand Canal.
A quick check-in and brush up, then out into St Mark's Square and Harry's Bar, for one or two of their famous Bellinis. It's my number one bar in the world. The next day we sought more inspiration. My great friend Heidi provided it, bringing some of the most wonderful coloured gemstones in Europe to our meeting at the Hotel Danieli.
Aquamarines, morganites, tourmalines, yellow sapphires – seeing them all is a bit like going into a sweet shop. We always come away with something special.

And then swoosh – off by launch to Murano, famed for its glass since the late thirteenth century. I had a go at blowing a wine goblet – it fell to bits when it cooled down. Then we buzzed on to Burano, with its pretty coloured houses. Rebecca took dozens of pictures and made lots of sketches: the necklace inspired by these islands really is a highpoint of the collection, with stones polished especially by Heidi including blue zircons, demantoid garnets and kunzites.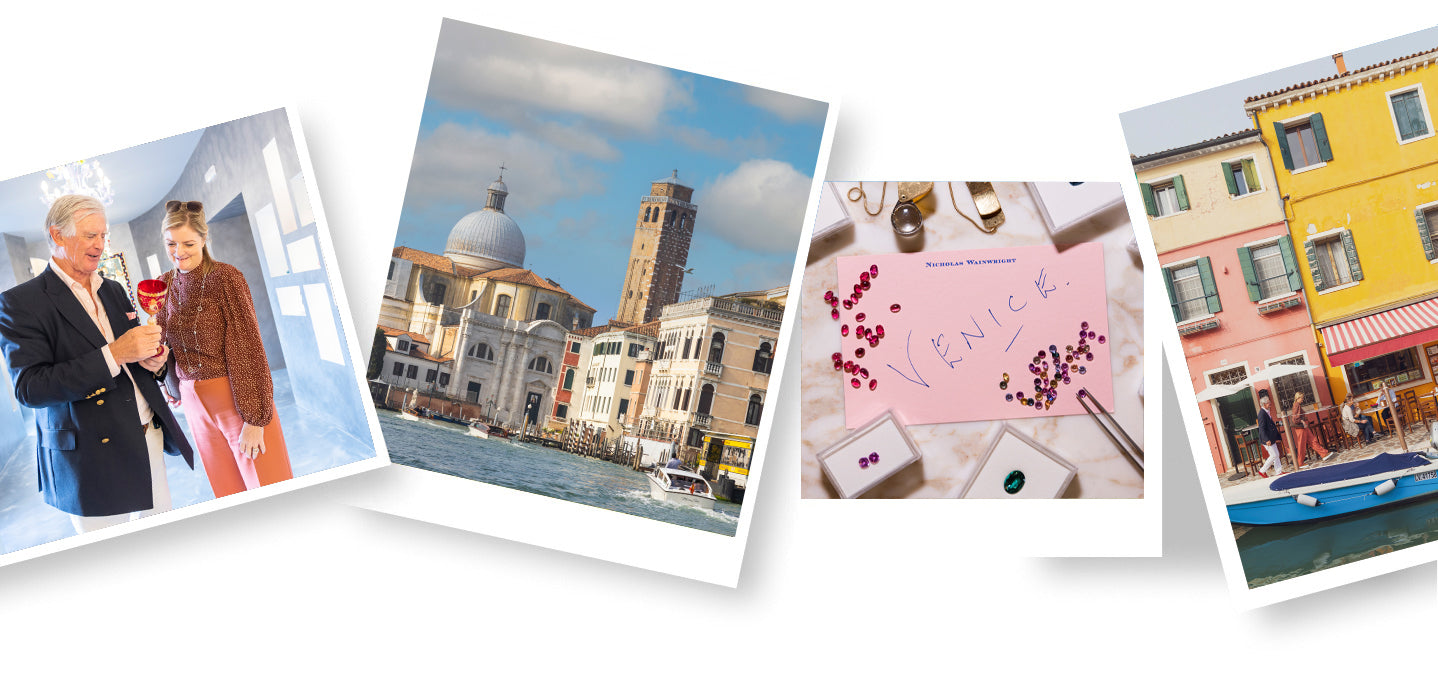 Our next Italian stop would be Florence. The train ride from Venice is beautiful: not the quickest, but well worth its leisurely pace for the views of Bologna, Prato and Ravenna, before the final dip through the cypress-topped Tuscan hills.
I wanted to see Florence from above, so the team back in London had very thoughtfully arranged a hot air balloon ride. Three thousand people waved and cheered as I experienced the most terrifying two hours of my life. But the collywobbles calmed, and the views over Ponte Vecchio and the Fortezza di Santa Maria were to die for – although I'm glad that I didn't!
Back on terra firma, a gelato restored my composure. I love Italian ice cream. And I specially love the impressive Florence necklace in this collection, inspired by angel wing motifs from frescos, sculptures and stucco found across the city.
After my brush with the angels, the last leg of my tour – Florence to Rome – would be completed in a mode of transport I feel much more at home in: an Aston Martin! The Vanquish is a glorious creation; an icon of British style and engineering. The drive usually takes two-and-three-quarter hours, but with the Aston I somehow did it in two... Speeding past signs for Arezzo, Siena and Perugia I recalled many happy holidays in years gone by.

My brother Michael met me in Rome. So kind of him to travel there specially. We spent the afternoon admiring the city – the Spanish Steps, Bernini's fountain, the Colosseum – then the evening catching up over more dry martinis (shaken, not stirred) and dinner on a terrace overlooking the Vatican. He was very excited to see the gorgeous stones I'd acquired on my journey, and to hear about Rebecca's lovely ideas.
What a week. I'm sometimes in bed watching telly by 10pm, so ten cities in ten days was quite something. But it was marvellous. So much fun – and not bad at all, for 74. Great memories. An extraordinary collection of jewellery to record them forever: every one a coconut! For – as dear Dad used to say – "Time spent in reconnaissance is seldom wasted."
Nicholas Wainwright, Liverpool, 2023