Boodles Harrods
Level G, The Fine Jewellery Room,
87 - 135 Brompton Road, Knightsbridge,
London
SW1X 7XL
Opening Hours
Monday - Saturday: 10am to 9pm
Sunday: 11:30am to 6pm
Bank holidays: 10am to 9pm
Please note that our hours may vary in December*
*Special December Hours:
Sunday 24th December (Christmas Eve): 10:30am - 5pm (browsing 10:30am - 11am)
Monday 25th December (Christmas Day): Closed
26th to 30th December: 10am - 9pm
Sunday 31st December (New Year's Eve): 11:30am - 6pm (browsing 11:30am - 12pm)
Monday 1st January (New Year's Day): 12pm - 9pm
Book Appointment
Harrods Most Valued Brand Partner
Huge congratulations to our Harrods Team who have been awarded 'Harrods Most Valued Brand Partner'. This is the most prestigious award and usually given to an individual salesperson at Harrods, however the Retail Director of Harrods felt that the entire Boodles team deserved the accolade and made a lovely speech saying so. We are delighted for them.
" Located within the Fine Jewellery Room on the ground floor at Harrods, our Boodles boutique has been designed in the company's soft grey and Boodles pink with a private viewing room and a wide range of our iconic Boodles pieces, as well as high jewellery suites and bespoke engagement rings. We would be delighted to help you with any enquiries, big or small."
Oliver Harding, Manager at Boodles Harrods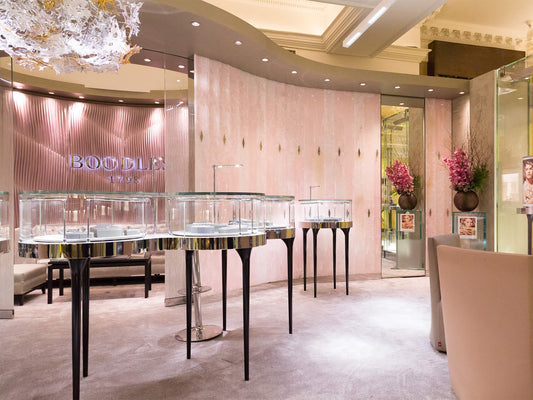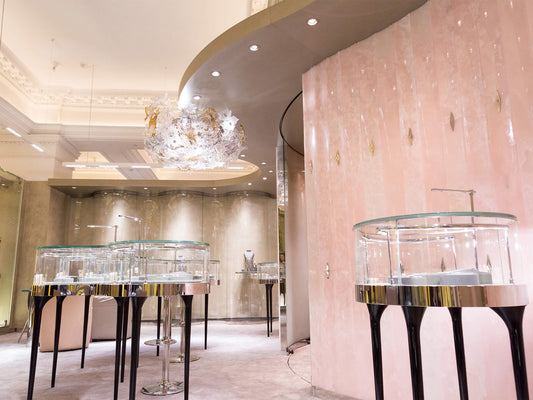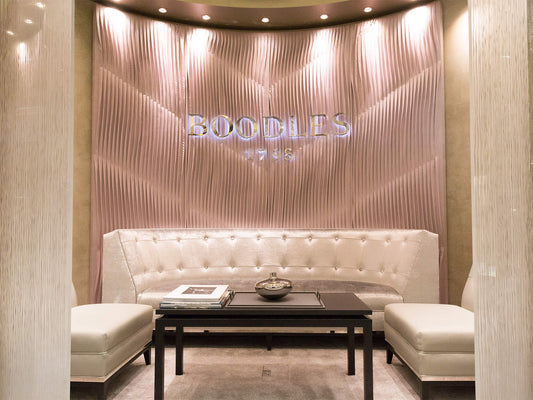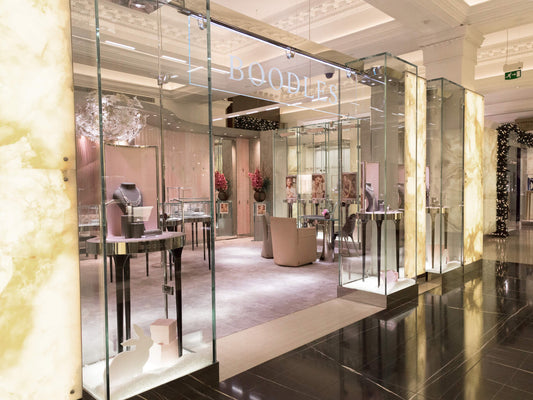 Visit Boodles Harrods and discover some of the finest luxury diamond jewellery situated in the heart of the famous Harrods Knightsbridge store. Our vast collection of jewellery includes engagement rings, necklaces, earrings, bracelets, and watches.
1023)" @resetnav.window="shownav= false, primarynav = 1, secondarynav= null, tertiarynav=null, rolloverPrimary = null, rolloverSecondary = null" @searchnav.window="shownav= false, primarynav = 'search', secondarynav= null, tertiarynav=null, rolloverPrimary = null, rolloverSecondary = null" @mouseover=" desktopnav ? [shownav = true] : ''; primarynav === null ? [primarynav = 1, secondarynav = null, tertiarynav=null, rolloverPrimary = null, rolloverSecondary = null] : ''; " >